The husband and wife team of Arlene and Robert have been in the Auctioneering business on Prince Edward Island for 44 years and have conducted thousands of successful auctions. On PEI word spreads fast and all the satisfied customers we have worked with over the years are our best advertising. Its because of this that we are PEI's # 1 choice when it comes to conducting auctions. Give us a call to discuss anything about an auction whether you are a buyer or a seller


"We Aim to Please"

Robert and Arlene Roberts ( The husband and wife team with the right combination ) proudly introduce you to our family. We have three children Robert Jr in the first photo, Alana our daughter and Cory.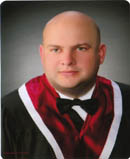 Our oldest Robert Jr worked in the business for many years until the time. he decided to return to school. Robert Jr is now a Child Youth Worker here on PEI Robbie is an avid hockey coach receiving many "Coach of the Year awards.




Alana, our daughter attended The University of
Prince Edward Island studying Psychology
and Religious Studies, she graduated in 2007.
She is an accomplished musician and singer
Alana and Otis McInnis were married in the
summer of 2010. Ottis is a federal Fisheries Officer Alana is now working with the PEI
Department of Health where she is a Social Worker. Alana has earned her degree in Arts (Major in Psychology and Religious Studies) and also her Social Work Degree.

Our younger son Cory Roberts attended St Marys University in Halifax where he graduated with a degree in Business Administration. After graduation he continued his training becoming a Chartered Accountant. Cory now works the firm Ernst and Young in Edmonton, Alberta. While in University Cory was an accomplished athlete and was the goaltender for the St Marys Huskies. He also played for the Owen Sound Attack and Oshawa Generals

Visit our retail store in Kensington Hiway # 2 P.E.I. Civic # 25055. Selling New and Used Items

"We Buy and Sell Everything"